Welcome to The Patch School's website!
Take your time looking around and don't forget to contact us if there is something you would like to see on the website that we haven't included.
While you are here, remember to scroll through our newsletter, Patchwork News, by clicking on the button to your right, to keep up with all that's happening.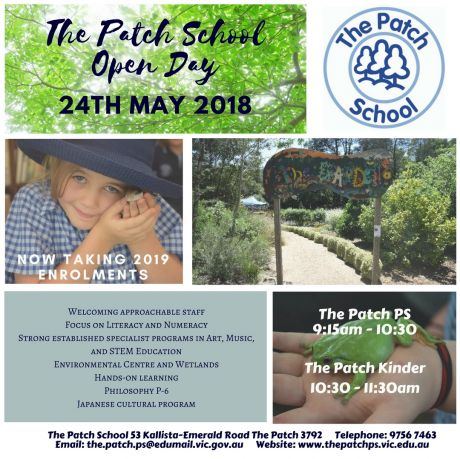 Recent News 
OSHClub will be running a curriculum day program from 7am-6pm on Tuesday 24th April. Click here for full details
The Camps, Sports and Excursions Fund (CSEF) applications for 2018 are now available for our eligible parents. Click here for more information/forms.
In the interest of the safety of our students, families and staff, The Patch School will be closed on days where the Fire Danger Rating is Extreme and will relocate to Knox Central Primary School, Boronia. We will be closed on days when the Fire Danger Rating is Code Red, as per DET policy. Please click here for more information & forms
The 2017 Annual Report is now available to the school community.
Science.Technology.Engineering.Maths